Anton Bruckner was one of the most original and influential composers of the late 19th century. He is best known for his symphonies, which are characterized by their rich harmonic language, strongly polyphonic texture, and considerable length. He also composed many sacred and secular choral works, as well as organ music.
Bruckner was born on September 4, 1824, in Ansfelden, a village near Linz in Upper Austria. He came from a humble family of farmers and craftsmen, and his father was a schoolmaster and organist. Bruckner showed musical talent from an early age, and learned to play the violin and the organ. He attended school in Hörsching, where he studied with his godfather, J.B. Weiss, a minor composer. After his father's death in 1837, he became a choirboy at the monastery of St. Florian, where he received his first formal musical education.
Bruckner trained as a teacher and worked in various villages in Upper Austria until 1855, when he became the principal organist at St. Florian. He also studied harmony and counterpoint by correspondence with Simon Sechter, a renowned Viennese theorist. In 1856, he moved to Linz, where he became the cathedral organist and continued his studies with Sechter. He also began to compose more seriously, influenced by Franz Schubert and Felix Mendelssohn.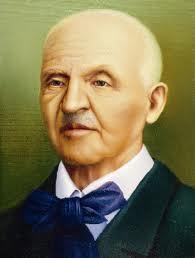 In 1861, Bruckner passed the examination for the degree of associate professor at the Vienna Conservatory. He also met Richard Wagner, whose music had a profound impact on him. He became an ardent admirer and supporter of Wagner, who encouraged him to pursue his symphonic ambitions. In 1868, Bruckner moved to Vienna, where he taught harmony and counterpoint at the Conservatory and later at the University. He also became famous as an organist, performing in many European cities.
Bruckner composed nine symphonies (the last one unfinished), which are considered his masterpieces. They are marked by their grandeur of scale, thematic development, modulations, and orchestration. They also reflect Bruckner's deep religious faith and his admiration for nature. Some of his symphonies were revised several times, often with the help of his friends and colleagues, due to his insecurity and self-criticism. His symphonies were not well received by some critics and audiences, who found them too long, repetitive, and dissonant. However, they were praised by other composers, such as Gustav Mahler and Arnold Schoenberg.
Bruckner also composed many sacred works for choir and orchestra, such as Masses, Te Deum, Psalm settings, and motets. These works show his mastery of polyphony and harmony, as well as his devotion to the Catholic tradition. He also wrote some secular choral works, such as songs and cantatas. His organ music includes preludes, fugues, fantasies, and improvisations.
Bruckner died on October 11, 1896, in Vienna. He was buried in the crypt of St. Florian monastery, under the organ that he loved so much. His music was gradually recognized and appreciated by later generations of musicians and listeners. He is regarded as one of the greatest symphonists of all time.