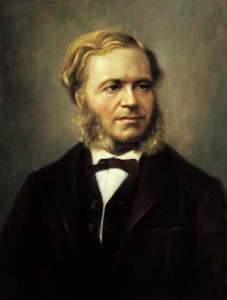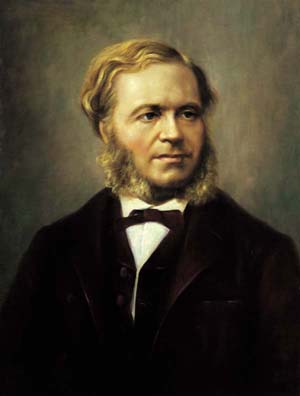 Liegi 1822 – Paris 1890
Born at Liège in 1822, César Franck was originally intended by his father for a career as a virtuoso pianist. In Paris his nationality excluded him at first from the Conservatoire, where he eventually failed to achieve the necessary distinction as a performer, turning his attention rather to composition. In 1846 he left home and went to earn his living as a teacher and organist, winning particular fame in the second capacity at the newly built church of Ste. Clotilde, with its Cavaillé-Coll organ. He drew to him a loyal and devoted circle of pupils and in 1871 won some official recognition as the nominated successor of Benoist as organ professor at the Conservatoire. A man of gentle character, known to his pupils as Pater seraphicus, he exercised considerable influence through his classes and performances, although remaining something of an outsider as a composer in a Paris interested largely in opera.

Orchestral Music
Franck's best known Orchestral music are the Symphonic Variations for solo piano and orchestra and the Symphony in D minor, completed in 1888 and first performed at a Conservatoire concert the following year. A brief series of symphonic poems includes the early Ce qu'on entend sur la montagne, based on Victor Hugo, Le chasseur maudit, inspired by a ballad by Burger, Les Djinns, after Hugo, and Psyché, a work that also calls for a chorus.

Sacred Music
Franck wrote a number of large scale Choral music on biblical subjects, with smaller scale works for occasional or liturgical use. This last category includes the well known Panis angelicus of 1872, originally for tenor, organ, harp, cello and double bass. The Panis angelicus was later interpolated into the three-voice Mass of 1861.

Chamber Music
Franck wrote one Violin Sonata, which, like his symphony, is united by a cyclic use of thematic material that connects the movements. There is a fine Piano Quintet, completed in 1879 and a final String Quartet, written in 1890.

Organ Music
As a very distinguished organist, Franck wrote remarkably little for the instrument on which his improvisations had won him fame and pupils. Organ compositions published include Trois chorals of 1890 and three pieces, Trois pièces, written a dozen years earlier. The six organ pieces of 1860-62 include a Fantaisie, Grande pièce symphonique, Prélude, fugue et variation, Pastorale, Prière and Final.

Piano Music
Franck's earlier piano music was designed for his own virtuoso performance. Two later works remain in general repertoire, the Prélude, choral et fugue of 1884 and the Prélude, aria et final completed in 1887.