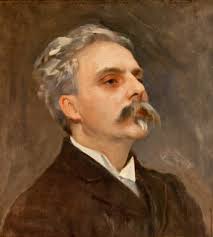 Pamiers 1845 – Passy 1924
In the rigid official musical establishment of Paris in the second half of the 19th century Gabriel Fauré won acceptance with difficulty. He was a pupil of Camille Saint-Saëns at the Ecole Niedermeyer and served as organist at various Paris churches, including finally the Madeleine, but had no teaching position until 1897 at the Conservatoire, where his pupils included Ravel and Enescu. In 1905 he became director of the Conservatoire in the aftermath of the scandal of the refusal of the Prix de Rome to Ravel and introduced a number of necessary reforms. He retired in 1920, after which he was able to devote himself more fully again to composition, notably two final Chamber music, a piano trio and a string quartet. He died in Paris in 1924.

Stage Works
In 1893 Fauré wrote incidental music for a production of Molière's Le bourgeois gentilhomme. The Sicilienne for this production was later used again in incidental music for Maeterlinck's Pelléas et Mélisande and later still won popularity in a variety of arrangements, including the composer's own orchestral version and arrangement for violin or cello and piaNo. There is a concert suite from Pelléas et Mélisande, orchestrated by Fauré's pupil Koechlin.

Orchestral Music
Fauré's nostalgic Pavane is an orchestral work with an optional chorus part, added at the suggestion of a patron, but generally omitted in modern performance. Music for solo instrument and orchestra includes the Ballade for piano and orchestra, the Berceuse for solo violin and the Elégie for solo cello. The piano duet Dolly Suite was arranged for orchestra in 1906 by Henri Rabaud.

Vocal
Fauré is a song composer of major importance, capturing in his settings the spirit of his time, the mood of nostalgic yearning for the unattainable. Some of the songs, such as Après un rêve (After a Dream) have achieved even wider popularity in instrumental transcription. In addition to individual songs of great beauty, Lydia, Clair de lune, Les roses d'Ispahan, Sylvia, En prière and many others, there are song cycles, including the Verlaine settings La bonne chanson and Cinq mélodies de Venise, L'horizon chimérique, La chanson d'Eve and Le jardin clos.

Church Music
Fauré's Requiem remains a standard element in choral repertoire, with its setting of funeral rites, rather than the full Requiem Mass of tradition. The earlier Messe basse (Low Mass) was originally a collaborative compositon of 1881 with Messager, but in final revision in 1906 consisting of four Mass movements by Fauré himself.

Chamber Music
Chamber music by Fauré includes two fine Violin Sonatas and the Piano Trio and String Quartet of his last years. There are several evocative smaller pieces, including the Romance, Berceuse and Andante for violin and piano and the Elégie, Romance and Sérénade for cello and piaNo.

Piano Music
Fauré made a significant addition to piano repertoire, particularly in a series of thirteen Barcarolles and a similar number of Nocturnes, with five Impomptus and a single Ballade. The piano duet Dolly Suite was written in the 1890s for the daughter of Emma Bardac, later wife of Debussy, after divorce from her banker husband, a singer for whom Fauré wrote La bonne chanson.