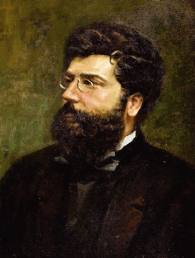 Paris 1838 – Bougival 1875
French composer, Bizet, was initiated into musical studies by his father. When he was still very young he attended the Conservatory of Paris under the guidance of Hàvely and won the famous Prix de Rome (1857). In the Italian environment the composer matured his precocious artistic consciousness; and worked on comic operas and orchestral pieces (Don Procopio, Esmeralda). Five years later, back in Paris, Bizet accepted an engagement with the Téatre Lyrique; there he started to compose symphonic and Choral music which are still largely unappreciated (Les pecheurs des perles).

Major works
At last, with La jolie fille de Perth 1866-67, Bizet received his first real consents and recognitions. It was only with the music for L'Alésienne 1872 (A. Daudet), that he revealed his musical inspiration and creativity and his real personal style. During the following years, he worked on several symphonic pieces and transcriptions and dedicated most of his time to the composition of that opera which is considered his masterwork, a marvel for his artistic perfection, a musical revolution: Carmen 1873-75. It is an Opera characterized by a typical meridional atmosphere, a masterpiece that glows with life, with dramaticism, with popular spanish colour. It is one of the best examples of Verismo in music. At first accused of Wagnerism, Carmen represented the quintessence of the French genius and taste; bringing the Opera-comique out of its traditional style. After Bizet's precocious death, Carmen obtained great international success.