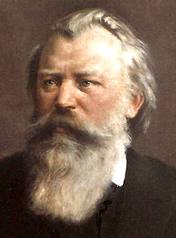 Amburg 1833 – Vienna 1897
Born in Hamburg, the son of a double-bass player and his older seamstress wife, Brahmsattracted the attention of Schumann, to whom he was introduced by the violinist Joachim, and after Schumann's death he maintained a long friendship with his widow, the pianist Clara Schumann, whose advice he always valued. Brahms eventually settled in Vienna, where to some he seemed the awaited successor to Beethoven. His blend of classicism in form with a romantic harmonic idiom made him the champion of those opposed to the musical innovations of Wagner and Liszt. In Vienna he came to occupy a position similar to that once held byBeethoven, his gruff idiosyncrasies tolerated by those who valued his genius.

Orchestral Music
Brahms wrote four symphonies, massive in structure, and all the result of long periods of work and revision. The two early Serenades have their own particular charm, while the Variations on a Theme by Haydn, in fact the St. Anthony Chorale, used by that composer, enjoy enormous popularity, examples of a form of which Brahms had complete mastery. A pair of Overtures, the Academic Festival Overture and the Tragic Overture, with arrangements of his Hungarian Dances, completed the body of orchestral music without a solo instrument. His concertos consist of two magnificent and demanding Piano Concertos, a Violin Concerto and a splendid Double Concerto for violin and cello.

Chamber Music
Brahms completed some two dozen pieces of chamber music and almost all of these have some claim on our attention. For violin and piano there are three sonatas, Opp. 78, 100 and 108, with a separate Scherzo movement for a collaborative sonata he wrote with Schumann and Dietrich for their friend Joachim. For cello and piano he wrote two fine sonatas, Opp. 38 and 99. There are two late sonatas, written in 1894, for clarinet or viola and piano, Op. 120, each version deserving attention, with a Trio for clarinet, cello and piano, Op. 114 and a Quintet for clarinet and string quartet, Op. 115, written three years earlier. In addition to this mention must be made of the three Piano Trios, Opp. 8, 87 and 101, the Trio for violin, horn and piano, Op. 40, three Piano Quartets, Opp. 25, 26 and 60, a Piano Quintet, Op. 34 and three String Quartets, Opp.51 and 67. Two String Sextets, Opp. 18 and 36, and two String Quintets, Opp. 88 and 111, make up the list.

Piano Music
If all the chamber music of Brahms should be heard, the same may be said of the music for piaNo. Brahms showed a particular talent for the composition of variations, and this is aptly demonstrated in the famous Variations on a Theme of Handel, Op. 24, with which he made his name at first in Vienna, and the Paganini Variations, Op. 35, based on the theme of the great violinist's Caprice No. 24. Other sets of variations show similar skill, if not the depth and variety of these major examples of the art. Four Ballades, Op. 10, include one based on a real Scottish ballad, Edward, a story of parricide. The three Piano Sonatas, Opp. 1, 2 and 5, relatively early works, are less well known than the later Piano Pieces, Opp. 118 and 119, written in 1892, and the Fantasias of the same year, Op. 116. Music for four hands, piano duets, include the famous Hungarian Dances, often heard in orchestral arrangement.

Vocal and Choral Music
There is again great difficulty of choice when we approach the large number of songs written by Brahms, important additions to the repertoire of German Lied (art song). The Liebeslieder Waltzes, Op. 52, for vocal quartet and piano duet, are particularly delightful, while the solo songs include the moving Four Serious Songs, Op. 121, reflecting preoccupations as his life drew to a close. Wiegenlied (Cradle Song), is one of a group of Five Songs, Op. 49; the charming Vergebliches Ständchen (Vain Serenade) appears in a later set of Five Romances and Songs, Op. 84, and there are two particularly wonderful songs for contralto, viola and piano, Gestillte Sehnsucht (Tranquil Yearning) and the Christmas Geistliches Wiegenlied (Spiritual Cradle-Song), based on the carol Josef, lieber Josef mein, Op. 91 (Joseph dearest, Joseph mine). Major Choral music by Brahms include the monumental German Requiem, Op. 45, a setting of biblical texts, the Alto Rhapsody, Op. 53, with a text derived from Goethe, and the Schicksalslied (Song of Destiny), Op. 54, a setting of Hölderlin.