Sergei Vasilyevich Rachmaninoff was a Russian composer, pianist, and conductor, widely regarded as one of the greatest composers of the late Romantic period. He was born on April 1, 1873, in Semyonovo, a small village near Novgorod, Russia, and passed away on March 28, 1943, in Beverly Hills, California, United States. Rachmaninoff's music is known for its lush melodies, rich harmonies, and virtuosic piano writing.
Rachmaninoff was born into a noble and musically inclined family. His father, Vasily, was an army officer and amateur pianist, while his mother, Lyubov, came from a cultured and artistic background. Rachmaninoff showed exceptional musical talent at an early age, displaying remarkable proficiency on the piano and composing his first piece at the age of nine. Recognizing his potential, his parents enrolled him in the St. Petersburg Conservatory at the age of ten.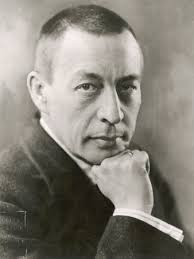 At the conservatory, Rachmaninoff studied composition and piano under the guidance of prominent figures such as Nikolai Rimsky-Korsakov, Anatoly Lyadov, and Alexander Siloti. Despite his exceptional skills as a pianist, Rachmaninoff struggled with stage fright and self-doubt throughout his life, which led to a period of depression following the disastrous premiere of his Symphony No. 1 in 1897.
However, Rachmaninoff's talent and determination soon propelled him to international recognition. His Piano Concerto No. 2, composed in 1901, marked his comeback and became one of his most beloved and frequently performed works. Rachmaninoff's compositions, characterized by their Romantic lyricism and emotional depth, resonated with audiences worldwide.
In 1904, Rachmaninoff embarked on his first concert tour outside of Russia, performing as a pianist and conductor. His tours were met with critical acclaim, and he was hailed as a leading interpreter of his own works. Rachmaninoff settled in Dresden, Germany, in 1906, where he composed several significant works, including his Symphony No. 2, the tone poem "The Isle of the Dead," and the choral masterpiece "The Bells."
With the outbreak of the Russian Revolution in 1917, Rachmaninoff's life took a dramatic turn. He and his family left Russia, fearing the uncertain political situation and the loss of their estate. They initially settled in Denmark before moving to the United States in 1918. The emigration deeply affected Rachmaninoff, as he longed for his homeland and struggled to adapt to a new life in a foreign country.
Despite the challenges of displacement and homesickness, Rachmaninoff continued to compose and perform. He composed some of his most famous works during his American years, including the Rhapsody on a Theme of Paganini for piano and orchestra and his Symphony No. 3. However, the demanding concert schedule and his commitment to financial security through concert tours took a toll on his compositional output.
Rachmaninoff's music, while rooted in the Romantic tradition, also showcased a personal and distinctive voice. His compositions exuded a sense of longing, nostalgia, and melancholy, often evoking the vast landscapes and cultural heritage of Russia. His piano music, in particular, demonstrated his technical brilliance and expressive depth, with pieces like the Prelude in C-sharp minor and the Sonata No. 2 becoming staples of the repertoire.
In addition to his compositional work, Rachmaninoff was an accomplished pianist and conductor. He performed extensively as a soloist, collaborating with renowned orchestras and conductors of his time. Rachmaninoff's interpretations of his own works, as well as the music of other composers like Ludwig van Beethoven, Frédéric Chopin, and Franz Liszt, were highly regarded for their emotional intensity and technical mastery.
Sergei Rachmaninoff spent the last years of his life in the United States, primarily in New York and Beverly Hills. He continued to tour and perform, but declining health limited his activities. Rachmaninoff was diagnosed with advanced melanoma in 1942, and he passed away on March 28, 1943, at the age of 69.
Rachmaninoff's legacy endures to this day, with his music remaining an integral part of the classical repertoire. His compositions, ranging from orchestral works and concertos to chamber music and choral pieces, continue to captivate audiences and inspire musicians. Sergei Rachmaninoff's profound contributions to music have solidified his position as one of the most celebrated composers and pianists in history.