Leonard Bernstein was a remarkable American musician who excelled as a conductor, composer, pianist, educator and humanitarian. He was one of the most influential and versatile figures in the history of classical and popular music. Here are seven facts about his life and achievements: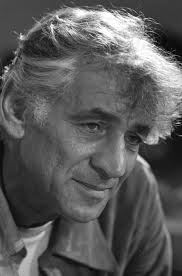 He was born Louis Bernstein in 1918 in Lawrence, Massachusetts, to Russian-Jewish immigrants. He changed his name to Leonard when he was 16, after his grandmother died. He started playing the piano at the age of five and showed great talent and passion for music.
He became famous overnight in 1943, when he stepped in as a substitute conductor for the New York Philharmonic with less than 24 hours' notice. He led a brilliant performance that was broadcast nationwide and earned him rave reviews and a front-page story in The New York Times. He was the first American-born conductor to lead a major American orchestra.
He composed music in many genres and styles, ranging from symphonies and ballets to musicals and film scores. His most famous work is West Side Story, a modern adaptation of Romeo and Juliet set in New York City. The musical was a huge success on Broadway and was made into two movies, winning multiple awards. Some of his other notable works include Candide, On the Town, Wonderful Town, Chichester Psalms, Serenade, Mass and his three symphonies.
He was a pioneer of music education and outreach, using television and other media to introduce classical music to millions of people around the world. He hosted and conducted the Young People's Concerts with the New York Philharmonic, which were televised for over 30 years and became a model for similar programs. He also wrote books and lectured on music history, theory and appreciation. He founded two international music festivals, the Tanglewood Music Center and the Schleswig-Holstein Musik Festival, to train young musicians and promote cultural exchange.
He was a champion of social justice and human rights, using his music and fame to support various causes and movements. He conducted concerts for civil rights, anti-war protests, nuclear disarmament, AIDS research and world peace. He performed Mahler's "Resurrection" Symphony at the funeral of President John F. Kennedy and at a historic concert in Israel after the Six-Day War. He was also a friend and mentor to many prominent artists and activists, such as Aaron Copland, Stephen Sondheim, Arthur Laurents, Jerome Robbins, Martin Luther King Jr., Jackie Kennedy and Maya Angelou.
He was a virtuoso pianist who could play both classical and jazz with ease and flair. He often conducted piano concertos from the keyboard, such as those by Mozart and Ravel. He also played solo recitals and chamber music with other musicians. His trademark piece was Copland's Piano Variations, which he performed frequently throughout his career. He never gave a solo piano recital, however, preferring to collaborate with others.
He was a charismatic and flamboyant personality who captivated audiences with his expressive gestures, witty remarks and emotional intensity. He was known for his eclectic tastes and interests, ranging from literature and philosophy to sports and fashion. He was also known for his personal struggles with his sexuality, his marriage, his health and his addiction to cigarettes. He died in 1990 at the age of 72 from a heart attack caused by progressive lung failure.
Leonard Bernstein was a musical genius who left behind a rich legacy of artistic excellence, cultural diversity and social responsibility. His life and work continue to inspire generations of musicians and music lovers around the world.