Hector Berlioz, born Louis-Hector Berlioz, was a French composer, conductor, and music critic. He was born on December 11, 1803, in La Côte-Saint-André, a small town in southeastern France. Berlioz is widely regarded as one of the most innovative and influential composers of the Romantic period. His music was characterized by its emotional intensity, vivid orchestration, and imaginative use of programmatic elements.
Berlioz grew up in a musical family and showed early talent as a musician. His father, a respected physician, initially wanted him to pursue a medical career. However, Berlioz's passion for music led him to study composition and music theory in Paris. Despite facing financial difficulties and opposition from his father, he persevered and gained admission to the prestigious Paris Conservatoire in 1826.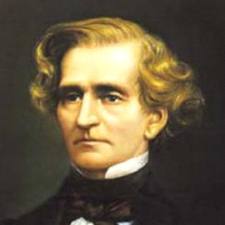 At the conservatoire, Berlioz studied composition with Jean-François Lesueur and Anton Reicha. His rebellious nature and innovative ideas often clashed with the conservative ideals of the institution. Nevertheless, Berlioz's time at the conservatoire allowed him to develop his compositional skills and provided opportunities to attend concerts and opera performances, which greatly influenced his musical style.
In 1830, Berlioz attended a performance of Shakespeare's play "Hamlet," which had a profound impact on him. Inspired by the play's dramatic power, he composed his groundbreaking work, the Symphonie fantastique. This symphony, completed in 1830, depicted a passionate and hallucinatory narrative of unrequited love, obsession, and despair. The Symphonie fantastique, with its use of recurring themes and innovative orchestration techniques, established Berlioz as a leading figure of Romanticism.
Throughout his career, Berlioz's compositions were often driven by extramusical inspiration and literary themes. His mastery of orchestration allowed him to create vivid and evocative musical landscapes. Works such as "Harold in Italy," "Roméo et Juliette," and "Les Troyens" exemplify his ability to convey narrative and emotions through music.
In addition to his compositions, Berlioz was a prolific music critic. His writings, published in various journals and newspapers, showcased his intellect and sharp wit. He was an ardent advocate for the music of Beethoven and Richard Wagner, and his critical essays greatly influenced public opinion and the reception of contemporary music.
Berlioz's personal life was marked by passion and tumult. In 1833, he fell in love with the Irish actress Harriet Smithson, who became the inspiration for his Symphonie fantastique. Despite facing numerous obstacles, including language barriers and Smithson's initial rejection, they eventually married in 1833. However, their relationship was marred by financial difficulties and Smithson's deteriorating mental health, leading to their separation in 1844.
Berlioz's career as a conductor took off in the 1840s. He conducted numerous performances of his own works as well as those of other composers, earning him recognition as an outstanding interpreter of music. His conducting style was characterized by its energy and precision, and he was admired for his ability to elicit powerful performances from orchestras.
Despite his artistic achievements, Berlioz struggled with financial stability throughout his life. He relied heavily on commissions, conducting engagements, and public support to sustain himself. However, his music gradually gained recognition, and he received prestigious appointments, including the position of conductor at the Paris Conservatoire in 1856.
Hector Berlioz's final years were marked by a return to his roots as a composer. He dedicated himself to composing ambitious choral works, including "La damnation de Faust" and "Requiem." These late works showcased his mature style and solidified his reputation as a master composer.
Hector Berlioz passed away on March 8, 1869, in Paris, at the age of 65. His contributions to music, both as a composer and conductor, left an indelible mark on the Romantic era and beyond. His innovative approach to orchestration, his exploration of programmatic elements, and his unwavering pursuit of artistic expression continue to inspire musicians and audiences to this day. Hector Berlioz's legacy as a visionary composer and musical pioneer remains a testament to his enduring influence on the world of classical music.