Nikolai Rimsky-Korsakov, born on March 18, 1844, in Tikhvin, Russia, was a prominent Russian composer, conductor, and music educator. He is regarded as one of the leading figures of the late 19th-century Russian classical music. Rimsky-Korsakov's musical genius and innovative compositions have left an indelible mark on the world of music.
From an early age, Rimsky-Korsakov showed a natural inclination and talent for music. He began taking piano lessons at the age of six and later developed skills in composition and orchestration. In 1856, he entered the Imperial Russian Navy and sailed around the world, which exposed him to different cultures and musical traditions, greatly influencing his later works.
In 1861, Rimsky-Korsakov met Mily Balakirev, a composer and leader of "The Five" (a group of Russian composers), who recognized his talent and encouraged him to pursue a career in music. Under Balakirev's guidance, Rimsky-Korsakov honed his skills and developed a unique musical style characterized by rich orchestration, colorful harmonies, and exotic melodies.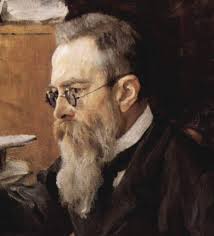 Rimsky-Korsakov's compositions are known for their vivid programmatic elements and folklore-inspired themes. His orchestral suite "Scheherazade" is perhaps his most famous work, drawing inspiration from the Arabian Nights tales. The piece showcases his exceptional talent for orchestration and his ability to paint musical pictures that transport listeners to distant lands.
Throughout his life, Rimsky-Korsakov held various positions in the musical world. He served as the director of the Free Music School in Saint Petersburg, where he played a crucial role in shaping the next generation of Russian composers, including Igor Stravinsky. He later became the professor of composition and orchestration at the Saint Petersburg Conservatory, where he continued to inspire and educate young musicians.
In addition to his composing and teaching career, Rimsky-Korsakov was an accomplished conductor. He held the position of conductor at the Russian Musical Society and led performances of his own works as well as those of other composers. His interpretations were known for their precision and attention to detail, earning him great admiration from both musicians and audiences.
Rimsky-Korsakov's life was not without challenges. He struggled with self-doubt and constantly sought to improve his compositional skills. He went through periods of self-criticism and revision, often revisiting and revising earlier works. Despite these personal struggles, his dedication to music and his desire to push the boundaries of Russian classical music never wavered.
Nikolai Rimsky-Korsakov passed away on June 21, 1908, in Lyubensk, Russia, leaving behind a remarkable musical legacy. His compositions continue to be celebrated and performed worldwide, enchanting audiences with their vibrant melodies and imaginative storytelling. Rimsky-Korsakov's contributions to Russian music and his influence on future generations of composers solidify his place as one of the great musical masters of the Romantic era.