Giuseppe Verdi was one of the most influential composers of the 19th century, whose operas are still widely performed and admired today. He was born in 1813 in a small village near Parma, Italy, and showed an early talent for music. He studied with local teachers and later moved to Milan, where he unsuccessfully applied to the conservatory. He then became a pupil of Vincenzo Lavigna, a former conductor at La Scala opera house.
Verdi's first opera, Oberto, was staged at La Scala in 1839 and received a modest success. His second opera, Un giorno di regno, was a failure and coincided with the death of his wife and two children. Verdi fell into a deep depression and vowed to give up composing. However, he was persuaded by the impresario Bartolomeo Merelli to write a new opera based on the biblical story of Nabucco. The opera premiered in 1842 and was a huge triumph, launching Verdi's career as the leading composer of Italian opera.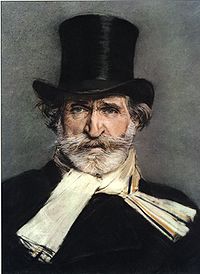 Verdi went on to write more than 20 operas, many of which are considered masterpieces of the genre. Some of his most famous works include Rigoletto (1851), Il trovatore (1853), La traviata (1853), Aida (1871), Otello (1887) and Falstaff (1893). His operas are known for their dramatic intensity, memorable melodies, rich orchestration and complex characters. Verdi also explored various themes such as love, betrayal, politics, religion and nationalism in his works.
Verdi was not only a composer but also a cultural icon and a patriot. He supported the movement for Italian unification and became a symbol of national identity. His music was often used as a rallying cry by the revolutionaries and his name was an acronym for Vittorio Emanuele Re D'Italia (Victor Emmanuel King of Italy), the first king of unified Italy. Verdi was also a generous philanthropist who founded a hospital and a retirement home for musicians in his hometown.
Verdi died in 1901 at the age of 87 and was mourned by millions of people. His funeral was attended by more than 300,000 people and his Requiem Mass was performed at La Scala. He is buried in the Casa di Riposo per Musicisti, the home for musicians he founded. His legacy lives on in his music, which continues to inspire and move audiences around the world.