Johannes Brahms was one of the most influential composers of the 19th century. He was born in Hamburg, Germany, on May 7, 1833, to a musical family. His father, Johann Jakob Brahms, was a horn and double bass player who taught him piano, violin, and cello. His mother, Johanna Henrika Christiane Nissen, was a seamstress who encouraged his musical interests.
Brahms showed remarkable talent as a pianist from an early age. He began composing when he was 11 years old and gave his first public performance when he was 15. He also played in taverns and dance halls to help support his family. He was influenced by the music of Beethoven, Mozart, Haydn, Schubert, and Schumann, as well as by the folk music of Germany and Hungary.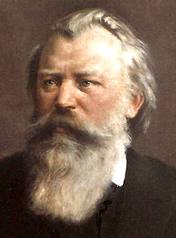 In 1853, Brahms met the violinist Joseph Joachim, who became his lifelong friend and collaborator. Joachim introduced him to Robert and Clara Schumann, who were impressed by his compositions and praised him as a genius. Brahms developed a close friendship with Clara, who was a renowned pianist and composer herself. After Robert's death in 1856, Brahms remained a loyal supporter of Clara and her children.
Brahms spent most of his professional life in Vienna, where he established himself as a leading composer and conductor. He wrote music for various genres, including symphonies, concertos, chamber music, piano works, choral works, and songs. He was admired for his mastery of form and structure, his rich harmonic language, and his expressive melodies. He also incorporated elements of classical and folk music into his style.
Some of his most famous works include the four symphonies, the Violin Concerto in D major, the Piano Concerto No. 2 in B-flat major, the German Requiem, the Hungarian Dances, and the Liebeslieder Waltzes. He also wrote many variations on themes by other composers, such as Haydn, Handel, Paganini, and Schumann.
Brahms died in Vienna on April 3, 1897, at the age of 63. He was buried in the Zentralfriedhof next to Beethoven and Schubert. He is widely regarded as one of the greatest composers of all time and a representative of the Romantic era.