Franz Liszt was one of the most influential and original composers of the 19th century. He was also a virtuoso pianist, a music teacher, a conductor, an organist, and a philanthropist. He was born in 1811 in Raiding, Hungary, and showed remarkable musical talent from an early age. He learned to play the piano from his father, who was a musician in the service of Prince Nicolas Eszterházy. He gave his first public concert at the age of nine and soon attracted the attention and support of wealthy patrons who sponsored his musical education.
Liszt traveled to Vienna, where he studied piano with Carl Czerny and composition with Antonio Salieri. He also met Beethoven, who praised his playing. He then moved to Paris, where he became acquainted with many prominent artists and writers, such as Chopin, Victor Hugo, and Heinrich Heine. He composed his first opera, Don Sanche, at the age of 14, but soon lost interest in composing and focused on performing and reading. He was deeply influenced by the Romantic movement and developed a passion for literature, art, and religion.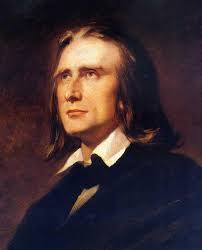 In 1833, Liszt fell in love with Countess Marie d'Agoult, a married woman who left her husband and children to live with him. They had three children together, one of whom was Cosima, who later married Richard Wagner. Liszt and d'Agoult traveled extensively throughout Europe, and Liszt gave numerous concerts that established his fame as a piano virtuoso. He also composed many works for piano, including his Transcendental Études, his Années de pèlerinage (Years of Pilgrimage), and his Hungarian Rhapsodies. He also invented the symphonic poem, a form of orchestral music that depicts a literary or pictorial theme.
In 1847, Liszt met Princess Carolyne zu Sayn-Wittgenstein, who became his lifelong companion and muse. She encouraged him to devote more time to composing and to pursue his religious interests. Liszt settled in Weimar, where he became the conductor of the court orchestra and a champion of new music. He composed many orchestral works, such as his Faust Symphony, his Dante Symphony, and his 12 symphonic poems. He also wrote several sacred choral works, such as his Masses and his oratorios Christus and The Legend of St. Elizabeth.
In 1861, Liszt moved to Rome, where he hoped to marry Princess Carolyne, but their plans were thwarted by the Vatican. Liszt then took minor orders in the Catholic Church and became an abbé. He continued to compose religious music, such as his Via Crucis and his Requiem. He also wrote experimental works that explored new harmonic and formal possibilities, such as his Bagatelle without Tonality and his Nuages gris (Gray Clouds).
Liszt spent his last years traveling between Rome, Weimar, and Budapest. He taught many piano students who became famous composers themselves, such as Grieg, Tchaikovsky, and Saint-Saëns. He also supported Wagner's operas and attended the premiere of Parsifal in Bayreuth in 1882. He died in 1886 in Bayreuth at the age of 74.